Posts for tag: oral hygiene
By Stone Family Dentistry
September 20, 2020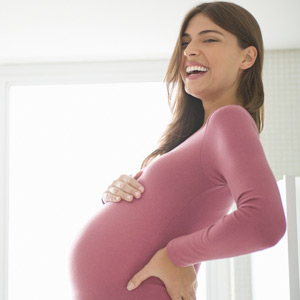 There are many health concerns when you're pregnant. And not just for you — what you eat, how you sleep or what medications or supplements you're taking all have an effect on your baby.
With so many concerns, it's easy to neglect caring for your teeth. But like other health issues, dental care affects both you and your baby and their future teeth and gum health. For both your sakes taking care of your mouth is a must.
For one thing, you're more susceptible during pregnancy to periodontal (gum) disease, an infection caused by bacterial plaque built up on teeth surfaces due to ineffective hygiene. It's believed hormonal changes increase the risk of gingivitis, the inflammation of infected gum tissues, common to expectant mothers.
Gum disease is a serious matter for anyone because of the increased risk of tooth loss. But there's another potential risk for expectant mothers: the bacteria that causes gum disease can pass through the placenta to the fetus. This can stimulate an inflammatory response from the mother that may result in a pre-term delivery and low birth weight.
There are some things you can do to protect your dental health and your baby's future health. Maintain a healthy diet with a wide range of whole foods: whole grains, fruits, vegetables, proteins and dairy products. Your doctor may also recommend iron and other supplements to reduce anemia. For the baby's dental development, be sure you're taking in sufficient calcium in your diet as well as other vitamins and nutrients. And although it's common to develop carbohydrate cravings, limit your consumption — especially sugar. Carbohydrates increase the levels of bacteria that cause tooth decay and gum disease.
Above all, practice consistent daily hygiene by brushing at least twice a day and flossing once. Be sure to visit us at least twice a year for cleanings and checkups. If you notice bleeding, swelling or redness of your gums (signs of gum disease) contact us as soon as possible.
A little extra attention to your teeth and gums while you're expecting can make a big difference in the health of your own teeth and gums, as well as build a strong foundation for your child's future oral health.
If you would like more information on dental health and care during pregnancy, please contact us or schedule an appointment for a consultation. You can also learn more about this topic by reading the Dear Doctor magazine article "Pregnancy and Oral Health."
By Stone Family Dentistry
August 01, 2020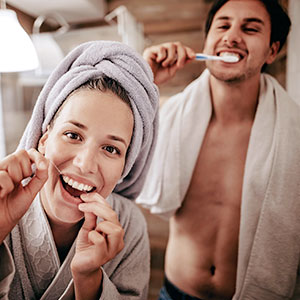 Brushing and flossing are two of the best things you can do to fight dental disease and maintain healthy teeth and gums.
Or is it flossing and brushing? What we mean is, should you floss first or brush first?
There's virtually no debate among dental professionals about whether or not to perform both hygiene tasks. While brushing removes disease-causing plaque from the broad surfaces of teeth, flossing gets to deposits of this disease-causing, bacterial film lodged between the teeth that brushing can't reach. You don't want to neglect one task over the other if you want to fully minimize your risk of tooth decay or gum disease (and don't forget semi-annual dental cleanings too).
But where there is some debate—good-natured, of course—among dentists is over whether it's better hygiene-wise to brush before flossing or vice-versa. For those on Team Brush, you should pick up your toothbrush first for the best results.
By brushing before you floss, you'll remove most of the plaque that has accumulated since your last cleaning session. If you floss first, the flossing thread has to plow through a lot of the plaque that otherwise might be removed by brushing. For many, this can lead to an unpleasant sticky mess. By removing most of the plaque first via brushing, you can focus your flossing on the small amount left between teeth.
Team Floss, on the other hand, believes giving flossing first crack at loosening the plaque between teeth will make it easier for the detergent in the toothpaste to remove it out of the way during brushing. It may also better expose these in-between areas of teeth to the fluoride in your toothpaste while brushing. And because flossing is generally considered a bit more toilsome to do than brushing, tackling it first could increase the likelihood you'll actually floss and not neglect it after brushing.
So, which task should you perform first? Actually, it's up to you: Weighing both sides, it usually comes down to which way is the most comfortable for you and will give you the greatest impetus for flossing. Because no matter which "team" you're on, the important thing is this: Don't forget to floss.
If you would like more information on personal dental care, please contact us or schedule an appointment for a consultation. You can also learn more about this topic by reading the Dear Doctor magazine article "Daily Oral Hygiene."
By Stone Family Dentistry
May 03, 2020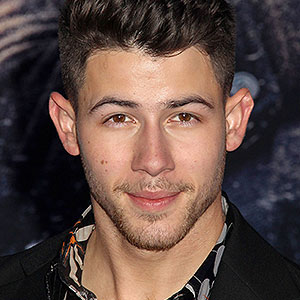 Think no one is looking at your smile when you're out in public? Nick Jonas' recent experience might convince you otherwise. While the Jonas Brothers were performing during the 2020 Grammys, fans watching on television picked up on some dark matter between his teeth.
To say Twitter lit up is an understatement. For many, it was that thing you couldn't unsee: Forget the performance, what was that between his teeth? Jonas later fessed up by tweeting, "…At least you all know I eat my greens."
We're sure Nick and his brothers take care of their teeth, as most any high-profile entertainer would. You can probably attribute his dental faux pas to trying to squeeze in some nourishment during a rushed performance schedule.
Still, the Grammy incident (Spinachgate?) shows that people do notice when your teeth aren't as clean as they should be. To avoid that embarrassment, here are some handy tips for keeping your teeth looking their best while you're on the go.
Start with a clean mouth. You're more apt to collect food debris during the day if you have built-up plaque on your teeth. This sticky bacterial biofilm attracts new food particles like a magnet. Remove plaque by thoroughly brushing and flossing before you head out the door.
Rinse after eating. Although your saliva helps clear leftover food from your mouth, it may not adequately flush away all the debris. You can assist this process by swishing and rinsing with clean water after a meal.
Keep a little floss handy. Even after rinsing, stubborn bits of food can remain lodged between teeth. So just in case, keep a small bit of emergency floss (or a floss pick) in your purse or wallet to remove any debris you see or feel between your teeth.
Watch what you eat. Some foods—like popcorn, sticky snacks or fibrous vegetables—are notorious for sticking in teeth. Try to avoid eating these foods right before a public appearance where your smile may be critical.
And here's an added bonus: Not only will these tips help keep your smile attractive on the go, they'll also help keep it healthy. Rinsing with water, for example, helps lower your mouth's acid level after eating, a prime factor in tooth decay. And flossing, both as a regular practice and for occasional stuck food, decreases plaque and subsequently your risk of tooth decay and gum disease.
Remember, a healthy mouth is the starting place for a beautiful smile. Keep it that way with dedicated hygiene habits at home or on the go.
If you would like more information on tips for better oral hygiene, please contact us or schedule a consultation. To learn more, read the Dear Doctor magazine article "Daily Oral Hygiene."