Posts for tag: nutrition
By Stone Family Dentistry
July 12, 2021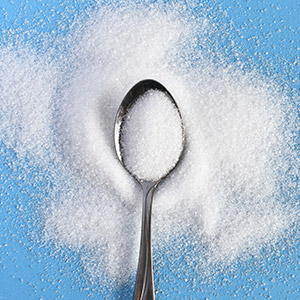 You've probably heard your dentist say more than once to cut back on sweets. That's good advice not only for keeping your teeth healthy, but your whole body as well.
As a carbohydrate, a macronutrient that helps supply energy to the body's cells, sugar is prevalent naturally in many foods, particularly fruits and dairy. The form of which we're most concerned, though, is refined sugar added to candy, pastries and other processed foods.
Believe it or not, three out of four of the 600,000 food items on supermarket shelves contain refined sugar, often hiding under names like "high fructose corn syrup" or "evaporated cane syrup." So-called healthy foods with labels like "low fat" or "diet" have added sugar and chemicals to replace the taste of fat they've removed.
But perhaps the biggest sugar sources in the average U.S. diet are sodas, energy drinks, and sports drinks. With the added volume of sugar in processed foods, the growing consumption of sweetened beverages has pushed the average American's sugar intake to nearly 20 teaspoons a day—more than three times the recommended daily allowance.
And right along with the increased consumption of sugar, cases of Type 2 diabetes, heart disease and other systemic diseases have likewise risen. And, yes, preventable tooth decay continues to be a problem, especially in children, with sugar a major contributing factor in the prevalence of cavities.
So, what can you do to keep your daily sugar intake within healthy bounds?
Check ingredient labels on packaged food for added sugar, chemicals or preservatives. If it contains sugar or "scientific"-sounding ingredients, leave it on the shelf.
Be wary of health claims on food packaging. "Low fat," for example, is usually an indicator of added sugar.
Drink water or unsweetened beverages instead of sodas, sports drinks or even juices. Doing so will vastly lower your daily intake of sugar.
A healthy diet with much less sugar and regular exercise will help you stay healthy. And with a lower risk for tooth decay, your teeth will also reap the benefits.
If you would like more information on the effects of sugar on your oral and general health, please contact us or schedule an appointment for a consultation. You can also learn more about this topic by reading the Dear Doctor magazine article "The Bitter Truth About Sugar."
By Stone Family Dentistry
June 22, 2021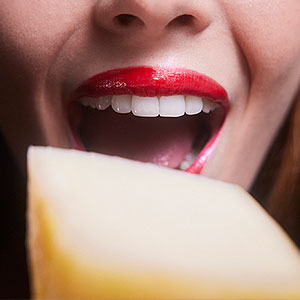 Here's a bit of magic: Hold your smart phone camera in front of someone and say, "Cheese!" More times than not, they'll break into a smile. No one knows for sure the origin of this grin-inducing phrase, but it works like a charm. And it's quite appropriate too! That tasty aging of proteins and fat also helps to keep the stars of our smile—our teeth—in good health.
In the fight against tooth decay and gum disease, daily oral hygiene—brushing and flossing—and regular dental visits get top billing. But nutrition is also a critical factor for great dental health.  A diet low in sugar and processed foods and rich in whole foods can also lower your dental disease risk.
Dairy is an important part of this "tooth-friendly" eating. In recognition of National Dairy Month this June, here's how products like milk and cheese can help you maintain a healthy—and photogenic—smile.
Nutrients. Dairy products like milk and cheese are chock full of vitamins and minerals. Two of the most important are calcium and phosphorous, both of which the body uses to build strong bones and teeth. The micronutrient Vitamin D found heavily in dairy helps regulate these important minerals so that they're available for teeth.
Reduced decay risk. Cheese and other dairy products do contain a form of sugar called lactose. But it has a milder effect within the mouth than other sugars, particularly sucrose (refined sugar): While bacteria readily feed on sucrose and release enamel-eroding acid as a by-product, they're less likely with lactose. Even so, there's still a risk, albeit lower, of lactose leading to tooth decay, so go easy on consumption.
Acid buffering. Speaking of acid, cheese in particular seems to contribute to neutralizing this bacterial byproduct. It's believed it does this by stimulating saliva production, which is the body's primary means for restoring proper pH balance in the mouth after eating. So, eating a little cheese during or after consuming a food with sugar may help offset any acid resulting from the sweet snack.
Cheese and other dairy products are a good source of protein, but also fat, so they should be consumed in moderation for overall health. But nibbling on a bit of Gouda, Havarti or Mozzarella can be a good thing for your teeth—and make it more likely you'll smile wide for the camera.
If you would like more information about the role of nutrition in better dental health, please contact us or schedule a consultation. To learn more, read the Dear Doctor magazine article "Nutrition & Oral Health."