Posts for tag: dental care
By Stone Family Dentistry
January 14, 2021
That newfound time at home can be used to brush up on better oral care.

Your smiles are integral for laughing, enjoying your favorite foods, and talking to loved ones. Your smile is there for you through all the most important parts of your life, so it's also important that you are showing it how much you care by practicing good oral hygiene. You can easily prevent cavities and gum disease, and our Charleston, SC, family dentist Dr. Denise Stone can provide you with helpful at-home strategies to support healthy teeth and gums during quarantine:

Brush your tongue
Did you know that bacteria don't just settle on teeth and along gums, but also love to set up camp on the tongue and other soft tissues of your mouth? If you're wondering why you deal with bad breath, you may want to turn your attention to how often you clean your tongue.

You can easily brush your tongue while brushing the rest of your teeth, or you may choose to use a tongue scraper. Either way, cleaning your tongue will certainly reduce bad breath and the bad bacteria in your mouth.

Don't rinse right away
If you use fluoride toothpaste the last thing you want to do is immediately wash it all away with mouthwash. Fluoride is great for helping to remineralize and strengthen enamel (it even has the power to repair very early signs of decay); however, if you immediately rinse your mouth out you also wash away the fluoride. Wait about 15 minutes after brushing to use mouthwash.

Replace your toothbrush frequently
When was the last time you replaced your toothbrush or toothbrush head? You mustn't be using the same old toothbrush head for months on end (they have a shelf life of about 3-4 months). When the bristles splay out that's when you know it's time to change them; however, if you've just gotten over an illness or you've come back from a trip then you'll want to immediately replace your toothbrush head.

Floss every day
Most people think that brushing alone will keep their mouths fully clean; however, it's the power of both brushing and flossing combined that helps keep your teeth and gums healthy and problem-free. If you aren't flossing every day, now is the time to pick up the habit. It only takes a couple of minutes and it can remove plaque and food between teeth that brushing can't. Trust us; flossing is one of the easiest and best things you can do for your smile.

If you have questions about your at-home dental care routine our Charleston, SC, family dentist is happy to answer your questions. For all of your questions or concerns, please call Stone Family Dentistry at (843) 556-6566.
By Stone Family Dentistry
December 10, 2020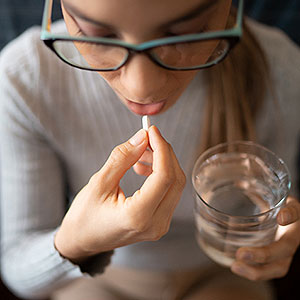 Undergoing dental work is for the most part a pain-free affair. But once you're home and the anesthetic begins to wear off, you may have some discomfort.
Fortunately, most post-procedure pain can be managed with non-steroidal anti-inflammatory drugs or NSAIDs. And while stronger versions of these pain relievers can be prescribed, you may only need one sold over-the-counter.
NSAIDs like ibuprofen or acetaminophen work by inhibiting the release of prostaglandins, substances that stimulate inflammation in traumatized or injured tissues. It differs in this way from the two other primary pain medications: Steroids act like natural hormones that alleviate physical stress in the tissues; and narcotics like morphine or codeine suppress the brain's reaction to nerve firings.
While these stronger types are effective for stopping pain, they can have several serious side effects. Narcotics in particular can be addictive. Although they may be necessary in serious cases of acute pain, most dentists turn to non-addictive NSAIDs first, which are usually effective with the kind of discomfort associated with dental work and with fewer side effects.
That's not to say, however, that NSAIDs are risk-free—they must be taken properly or you could suffer serious health consequences. For one, NSAIDs have a blood-thinning effect that's even more pronounced when taken consistently over a period of weeks. This can lead to bleeding that is difficult to stop and erosion of the stomach lining leading to ulcers. Prolonged use can also damage the kidneys.
As a rule of thumb, adults shouldn't take more than 2400 milligrams of ibuprofen or other NSAIDs in a day, unless otherwise directed by their doctor. For most, a 400-milligram oral dose taken with food (to minimize stomach upset) is usually sufficient to relieve pain for around five hours.
You'll usually avoid unwanted health effects by keeping within your dentist's recommended doses and taking an NSAID for only a few days. Taking an NSAID properly can help keep your discomfort to a minimum after dental work without the need for stronger drugs.
If you would like more information on managing dental pain, please contact us or schedule an appointment for a consultation. You can also learn more about this topic by reading the Dear Doctor magazine article "Treating Pain With Ibuprofen."
By Stone Family Dentistry
April 03, 2020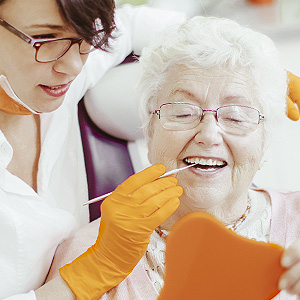 While some aspects of regular dental visits are much the same for everyone, they can be more involved for an older adult. That's because people later in life face an increased risk of dental disease and other age-related issues.
If you're a caregiver for an older adult, you'll want to be aware of these heightened risks. Here are 4 areas of concern we may check during their next regular dental visit.
Oral cancer. While it can occur at any age, cancer is more prevalent among older adults. Although rarer than other cancers, oral cancer's survival rate is a dismal 50% after five years. This is because the disease is difficult to detect early or is misidentified as other conditions. To increase the odds of early detection (and better survival chances) we may perform a cancer screening during the visit.
Dental disease. The risks for tooth decay and periodontal (gum) disease also increase with age. A primary risk factor for older people is a lack of adequate saliva (the mouth's natural disease fighter) often caused by medications or systemic conditions. We'll watch carefully for any signs of disease, as well as assess their individual risk factors (including medications) for decreased oral health.
Dentures. If they wear dentures, we'll check the appliance's fit. While dentures can wear with use, the fit may also grow loose due to continuing bone loss in the jaw, a downside of denture wearing. We'll make sure they still fit comfortably and aren't stressing the gums or supporting teeth. It may be necessary to reline them or consider replacing them with a new set.
Oral hygiene. Brushing and flossing are just as important for older adults as for younger people for preventing dental disease, but often more difficult due to mental or physical impairment. We can note areas of bacterial plaque buildup and recommend ways to improve their hygiene efforts.
Depending on how well your older adult can care for themselves, it may be advisable for you to come with them when they visit us. Our dental team can provide valuable information and advice to help you help them have a healthier mouth.
If you would like more information on dental care for older adults, please contact us or schedule an appointment for a consultation. You can also learn more about this topic by reading the Dear Doctor magazine article "Aging & Dental Health."