Posts for tag: Veneers
By Stone Family Dentistry
July 02, 2021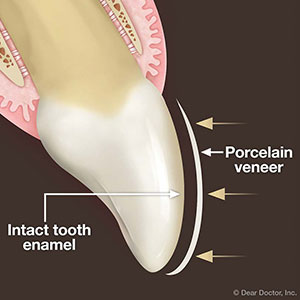 If you're looking for a cosmetic enhancement with a "light" touch, you can't beat dental veneers. These custom-made wafers of dental porcelain are bonded to the front of teeth to mask chips, heavy staining or gaps, revitalizing your smile.
But with traditional veneers, a minimal impact doesn't mean no impact at all. Although they're quite thin—often a millimeter or less—they can still look bulky when bonded to unprepared teeth. Dentists usually remove a small amount of surface enamel to help them appear more natural.
The alteration itself is painless, and only the bare minimum of enamel is removed. Even so, the alteration is permanent—the tooth will require a veneer or other form of restoration from then on. But a new kind of veneer may make it possible to avoid any enamel removal, or much less. These no-prep or minimal-prep veneers are even thinner, between 0.3 and 0.5 millimeters.
With these ultra-thin veneers, your dentist may only perform a little minor enamel re-shaping, particularly the sides of the teeth, to ensure a good fit. As thin as they are—akin to that of a contact lens—no-prep veneers can be bonded to the teeth surface without the need for fitting them under the gum line.
No-prep veneers are ideal for people with smaller than normal teeth, or that appear smaller due to other facial features. This also includes teeth that have worn down from age or teeth grinding, or those that are misshapen in some way. They also work well with people who have a narrow smile where less teeth than normal are visible in the "smile zone."
They can also be used with patients who have oversized or prominent teeth, but it may still require some enamel removal. The only qualification for anyone receiving ultrathin veneers is that their enamel is in reasonably good health.
Because there's little to no alteration of the teeth, no-prep veneers can be reversed. Removing them, though, is no easy task, so you'll still need to think long-term before obtaining one. All in all, though, no-prep veneers in the right setting can still transform your smile without much permanent change to your teeth.
If you would like more information on no-prep veneers, please contact us or schedule an appointment for a consultation. You can also learn more about this topic by reading the Dear Doctor magazine article "No-Prep Porcelain Veneers."
By Dr. Denise Stone
July 24, 2019
Veneers have helped people all over the world acquire a perfect smile, and these simple restorations could also hide the imperfections that you personally feel embarrassed about. While most people aren't born with perfect smiles, our Charleston, SC, dentist, Dr. Denise Stone, can help make that possible thanks to this cosmetic treatment!
What are dental veneers?
Veneers are very thin, custom-created porcelain shells that are bonded to the front of your teeth to hide flaws and improve the overall appearance of your smile. Most adults with healthy teeth that are looking to improve the shape, size, color, or alignment of their smile could benefit from veneers.
Are you a good candidate for veneers?
So, you may be wondering whether you should get dental veneers from our Charleston, SC, cosmetic dentist. You may want to consider getting veneers if,
You have chips, cracks and other imperfections
If you are embarrassed by your smile because you have some teeth that are cracked, chipped, or have other mild cosmetic flaws, then veneers could easily correct all of these problems and more.
You have severe stains
Some discolorations will respond well to whitening treatment, but not all stains will. If you are dealing with stains that are internal or extremely dark, then the easiest and most effective way to get a whiter smile is with porcelain veneers. Your veneers are custom-made for you, allowing us to choose a natural-appearing, yet radiant, shade of porcelain from which to create your veneers.
You have strong teeth
It's important that your teeth are strong enough for veneers. This is why every patient needs to come in for a consultation no matter what kind of cosmetic treatment they wish to undergo. In some cases, we may need to take x-rays in order to make sure that there is a sufficient amount of enamel to support the veneers.
You have slightly crooked teeth
If your teeth are just a little crooked or crowded, then you may want to consider veneers. While veneers won't be able to do the same teeth-shifting job of braces, it can hide some of these misalignments to create a straighter-looking smile.
Interested? Give us a call
Are you ready to get dental veneers from our Charleston office? If so, call Stone Family Dentistry today at (843) 556-6566 to schedule a consultation with your cosmetic dentist, Dr. Stone.