Posts for tag: Crowns
By Stone Family Dentistry
September 11, 2021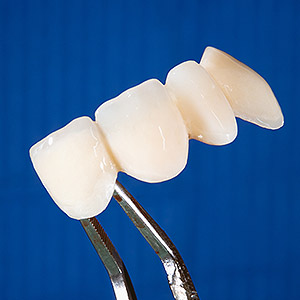 Our primary aim as dentists is to preserve teeth. There are times, however, when preserving a tooth is no longer worth the effort and we must recommend removing it. Fortunately, extracted teeth can be replaced with a functional and attractive restoration.
Today's top tooth-replacement option is the dental implant. Composed of a titanium metal post imbedded into the jawbone, a single dental implant can replace an individual tooth or a series of implants can support other restorations for multiple teeth. Besides being incredibly life-like, dental implants are highly durable and can last for decades.
But dental implants aren't an optimal choice for everyone. Their cost often matches their status as the premier tooth replacement method. And because they require a minimum amount of bone for proper implantation, they're not always feasible for patients with extensive bone loss.
But even if dental implants aren't right for you, and you want a fixed restoration rather than dentures, you still have options. What's more, they've been around for decades!
One is a bonded crown, which works particularly well for a tooth excessively damaged by decay, excessive wear or fractures. After removing all of the damaged portions and shaping the remaining tooth, we cement a life-like crown, custom created for that particular tooth, over the remaining structure.
Besides improving appearance, a crown also protects the tooth and restores its function. One thing to remember, though, is although the crown itself is impervious to disease, the remainder of the natural tooth isn't. It's important then to brush and floss around crowned teeth like any other tooth and see a dentist regularly for cleanings.
Dental bridges are a fixed solution for extracted teeth. It's composed of prosthetic teeth to replace those missing bonded together with supporting crowns on both ends. These crowned teeth are known as abutments, and, depending on how many teeth are being replaced, we may need to increase the number of abutments to support the bridge.
Although durable, crowns or bridges typically don't match the longevity of an implant. And, implants don't require the permanent alteration of support teeth as is necessary with a bridge. But when the choice of implants isn't on the table, these traditional restorations can be an effective dental solution.
If you would like more information on crown or bridge restorations, please contact us or schedule an appointment for a consultation. You can also learn more about this topic by reading the Dear Doctor magazine article "Crowns & Bridgework."
By Stone Family Dentistry
December 03, 2020
Here's how a dental crown could improve your oral health.
If you are dealing with a cracked, broken, or infected tooth, then chances are good that our dental team has recommended getting a dental crown. A dental crown is a commonly placed restoration that can benefit smiles that have broken, damaged, or weak teeth. Fortunately, when these problems happen, our Charleston, SC, dentist Dr. Denise Stone offers state-of-the-art restorative dentistry that includes beautiful and long-lasting dental crowns to better your smile.
A dental crown is a marvelous way to restore, preserve, and even improve the appearance of one or more teeth. Here are some reasons for a dental crown,
Cover and protect a damaged or broken tooth
Replace a large filling or to support a severely decayed tooth
Reinforce and reshape a weak or misshapen tooth
Preserve teeth that are worn down and prone to breakage
Cover badly stained or discolored teeth
Protect a tooth that has undergone root canal therapy
Anchor a dental bridge in place (to replace missing teeth)
Cover a dental implant to replace a single missing tooth
What should I expect when getting a dental crown?
You will typically need to make two trips to our dental office here in Charleston, SC, for us to complete your restorative dentistry procedure. Here are the steps involved,
Step 1: First, we need to remove decay or treat any infection that might be present. After which, we will shave down parts of the tooth so that the crown can fit over it. This is all performed under local anesthesia.
Step 2: We will take impressions of your mouth to get the exact measurements needed to craft your crown. These impressions are sent to a dental lab that we trust to make your very own crown. In the meantime, we will place a temporary crown over the tooth to protect it.
Step 3: You will come in a second and final time to have the temporary crown removed so that we can check the fit and look of your permanent crown. If you are fully satisfied with your new crown, we will then cement it into place. With a final polish your new tooth is good to go!
Whether you want to learn more about dental crowns or you're ready to sit down with our Charleston dental team to discuss your restorative dentistry options, don't hesitate to call Stone Family Dentistry at (843) 556-6566.
By Dr. Denise Stone
November 13, 2018
Taking care of your teeth is a full-time job, and even healthy smiles can develop cavities or sustain damage. When that happens, Dr.
Denise Stone of Stone Family Dentistry in Charleston, South Carolina, is here to help renew your smile. Whether it's a small spot of decay or a knocked-out tooth, we have a variety of restorative dentistry options that can help your teeth look and feel great again. Learn about a few of them here!
Fillings
Each of your teeth is covered in enamel, a substance made up of minerals (mostly calcium derivatives) that is actually the hardest material in the body. However, the acids that come from bacteria interact with food particles inside your mouth and can cause a breakdown in this layer of the tooth; these are known as dental caries or cavities. Fortunately, restorative dentistry offers a quick fix for this common problem: fillings. Your Charleston dentist will remove the decay from the tooth and then use a ceramic and glass composite to fill in the space. This composite is designed to blend in perfectly with your teeth.
Crowns
For more extensive decay or large chips, your Charleston dentist may use a crown. Like fillings, crowns are made of ceramic, but they look like the entire visible portion of a tooth, although they are hollow inside, which allows them to fit on top of a damaged tooth and cover it entirely. This keeps the tooth from sustaining any more damage. Crowns are a versatile part of restorative dentistry in general, as they're used to finish root canals and dental implants, as well as support bridges that fill in spaces from missing teeth.
Dental implants
To replace an entire missing tooth, nothing works better than a dental implant. From root to crown, dental implants fill in gaps caused by missing teeth seamlessly, comfortably, and easily. The post of the implant is installed under the gum line in a simple procedure, then the crown is attached later. They're a low maintenance restorative dentistry option, only requiring brushing, flossing, and regular checkups at Stone Family Dentistry in Charleston, SC.
Regardless of your restorative dentistry needs, Stone Family Dentistry can help you! Contact our office in Charleston, South Carolina to schedule an appointment with Dr. Denise Stone. Call (843) 556-6566 today.