Posts for category: Oral Health
By Stone Family Dentistry
February 03, 2020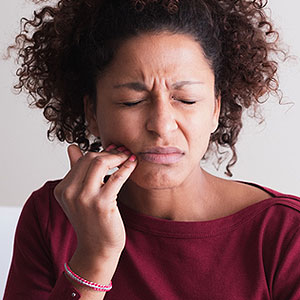 A loose primary ("baby") tooth is often a cause for celebration. A loose permanent tooth, however, is a cause for concern. A permanent tooth shouldn't even wiggle.
If you have a loose tooth, it's likely you have a deeper dental problem. Here are the top underlying causes for loose teeth.
Gum disease. Teeth are held in place by an elastic tissue called the periodontal ligament. But advanced periodontal (gum) disease, a bacterial infection usually caused by film buildup on teeth called dental plaque, can damage the ligament and cause it to detach. If it's not treated, it could lead to tooth loss.
Bite-related trauma. A normal bite helps balance out the forces generated when we chew so they don't damage the teeth. But if a misaligned tooth protrudes higher from the jaw, the opposing tooth will likely create more downward pressure on it while chewing. This can stress the tooth's supporting ligament to the point of looseness.
Self-inflicted trauma. While they may be trendy, tongue jewelry can cause dental damage. A wearer who clicks the "barbell" of a tongue stud against their teeth could be creating conditions conducive for gum damage and bone loss, which can cause tooth looseness. Similarly, taking orthodontics into your own hands could also damage your teeth, especially if you have undiagnosed gum disease.
Genetics. Although you can't prevent it, the type of resistance or susceptibility you inherited from your parents (as well as your dental anatomy) can cause you dental problems. Thinner gum tissues, especially around the roots, can make you more susceptible to gum disease or dental trauma, which in turn could contribute to tooth looseness.
There are things you can do to lessen your chance of loose teeth. Brush and floss every day to remove disease-causing bacterial plaque and see a dentist regularly for cleanings to reduce your risk of gum disease. If you have any misaligned teeth, consult with an orthodontist about possible treatment. And avoid oral jewelry and DIY orthodontics.
If you do notice a loose tooth, see us as soon as possible. We'll need to diagnose the underlying cause and create a treatment plan for it. We may also need to splint the tooth to its neighbors to stabilize it and reduce your risk of losing it permanently.
If you would like more information on tooth mobility, please contact us or schedule an appointment for a consultation. You can also learn more about this topic by reading the Dear Doctor magazine article "When Permanent Teeth Become Loose."
By Stone Family Dentistry
January 24, 2020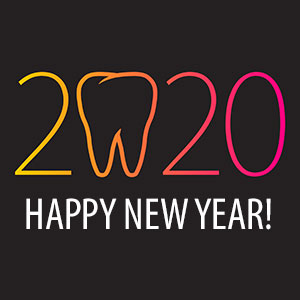 The 2020s are here, so throw those "new decade" parties! Well, maybe. Some of your party guests might insist the Twenties won't begin until January 1, 2021. For some reason, feelings can run hot on both sides of this "debate," enough to warm up everyone's eggnog. Instead, steer the conversation to something a little less controversial: how to achieve the best possible dental health in the upcoming decade (whenever it comes!).
Sadly, many folks don't pay attention to their dental health until it's in dire need of attention. The better approach is to be proactive, not reactive: doing things now to ensure healthy teeth and gums years, and decades, later.
If you say brush and floss daily, you're already ahead of the game. Nothing you do personally promotes a healthy mouth more than dedicated oral hygiene. But there's one more critical piece to proactive dental care—a solid partnership with us, your dental professionals. Working together, we can help ensure you remain healthy dental-wise for the long term.
To understand the value of this partnership, it helps to think of dental care as a four-phased cycle:
Identifying your individual dental risks. Because of our individual physical and genetic makeup, each of us faces different sets of risks to our dental health. Over the course of regular dental visits, we can identify and assess those weaknesses, such as a propensity for gum disease or structural tooth problems due to past tooth decay.
Designing your personal care program. Depending on your risk profile assessment, we can develop an ongoing personal care program to minimize those risks. Part of this risk-lowering plan will be identifying recommended prevention measures like enhanced fluoride applications or areas that need correction or treatment.
Treating dental problems promptly. The key to the best possible dental health is treating any arising problems as soon as possible. Diseases like tooth decay or gum disease only get worse with time and cause more damage the longer they go untreated. Treatment, though, can also extend to less urgent matters: Straightening crooked teeth, for example, can make it easier to keep them clean.
Maintaining your optimum level of health. Through comprehensive treatment and care, we can help you reach "a good place" in your dental health. But we can't stop there: We'll continue to monitor for health changes and maintain the good practices we've already established through regular care. And with any new developments, we begin the cycle again to keep you focused on optimum dental health.
No one knows what their life will be like passing through the next decade. But one thing's for certain: A dental care partnership with us can help you achieve the health you desire for your teeth and gums.
If you would like more information about ongoing dental care, please contact us or schedule an appointment. To learn more, read the Dear Doctor magazine articles "Successful Dental Treatment" and "Cost-Saving Treatment Alternatives."
By Stone Family Dentistry
January 04, 2020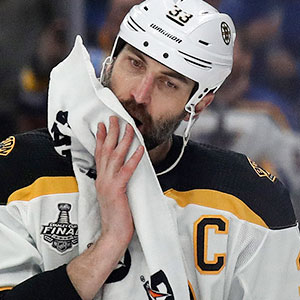 Boston Bruins defenseman Zdeno Chara had a rough Stanley Cup final against the St. Louis Blues this past June. Not only did the Bruins ultimately lose the championship, but Chara took a deflected puck shot to the face in Game Four that broke his jaw.
With the NHL season now over, the 42-year-old Bruins captain continues to mend from his injury that required extensive treatment. His experience highlights how jaw fractures and related dental damage are an unfortunate hazard in hockey—not only for pros like Chara, but also for an estimated half million U.S. amateurs, many in youth leagues.
Ice hockey isn't the only sport with this injury potential: Basketball, football (now gearing up with summer training) and even baseball players are also at risk. That's why appropriate protective gear like helmets and face shields are key to preventing injury.
For any contact sport, that protection should also include a mouthguard to absorb hard contact forces that could damage the mouth, teeth and gums. The best guards (and the most comfortable fit) are custom-made by a dentist based on impressions made of the individual's mouth.
But even with adequate protection, an injury can still happen. Here's what you should do if your child has an injury to their jaw, mouth or teeth.
Recognize signs of a broken jaw. A broken jaw can result in severe pain, swelling, difficulty speaking, numbness in the chin or lower lip or the teeth not seeming to fit together properly. You may also notice bleeding in the mouth, as well as bruising under the tongue or a cut in the ear canal resulting from jawbone movement during the fracture. Get immediate medical attention if you notice any of these signs.
Take quick action for a knocked-out tooth. A tooth knocked completely out of its socket is a severe dental injury. But you may be able to ultimately save the tooth by promptly taking the following steps: (1) find the tooth and pick it up without touching the root end, (2) rinse it off, (3) place it back in its socket with firm pressure, and (4) see a dentist as soon as possible.
Seek dental care. Besides the injuries already mentioned, you should also see a dentist for any moderate to severe trauma to the mouth, teeth and gums. Leading the list: any injury that results in tooth chipping, looseness or movement out of alignment.
Even a top athlete like Zdeno Chara isn't immune to injury. Take steps then to protect your amateur athlete from a dental or facial injury.
If you would like more information about dealing with sports-related dental injuries, please contact us or schedule an appointment for a consultation. To learn more, read the Dear Doctor magazine articles "Athletic Mouthguards" and "The Field-Side Guide to Dental Injuries."